Archive for the ' at Dodger Stadium ' Category

When the Dodgers announced their new Sport Network, I was wondering why the name did not have the word "Dodgers"

From this LA Times article: http://www.latimes.com/sports/dodgersnow/la-sp-dn-dodgers-time-warner-cable-mlb-tv-deal-20140115,0,5374663.story#ixzz2rFhZdVeq
The new SportsNet LA channel will use the Dodgers' interlocking "LA" logo,  team co-owner Todd Boehly said. He said the Dodgers agreed to leave the team  name out of a channel name that is similar to TWC's other local sports network,  Time Warner Cable Sportsnet.

"The decision was a Time Warner decision," Boehly said. "That was something  they thought was really valuable to their brand. We have the flexibility to sit  down and evolve the name over time."

Kasten said the Dodgers and TWC plan to air 75 games in Spanish this season — on a separate channel — with the goal of airing all games in Spanish in  future seasons.
The Dodgers officially announced yesterday that the new Sport Network for the Dodgers called  SportsNet LA will launch on February 25.  You can follow the account @sportnetLA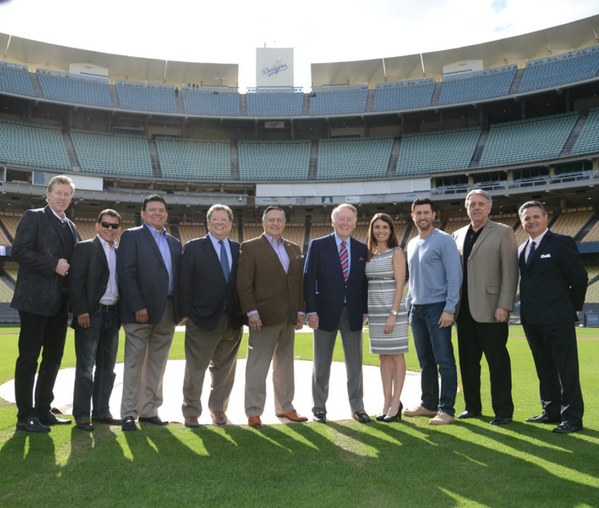 From left to right. Orel Hershiser, Pepe Yniguez, Fernando Valenzuela, Charlie Steiner, Jaime Jarrin, Vin Scully, Alanna Rizzo, Nomar Garciaparra, Rick Monday, Jorge Jarrin.  Missing in the picture are Jerry Hairston, John Hartung and Manny Mota.
From the Dodgers Press Release:
LOS ANGELES, CA - SportsNet LA, the exclusive new local TV home of the Los Angeles Dodgers, officially announced today that the network will launch on February 25, the night before the Dodgers' first Spring Training game.

SportsNet LA will take fans behind-the-scenes and offer in-depth access into the Dodger organization, providing an immersive experience with never-before-seen content, and thousands of hours of comprehensive Dodger programming. SportsNet LA will televise 24/7 Dodger content, including live and classic games, live studio shows, numerous original programs, all with expert commentary led by the network's on-air talent team of Orel Hershiser, Nomar Garciaparra, Charley Steiner, Jerry Hairston, Alanna Rizzo and John Hartung.
16 days till Pitchers and Catchers report  (2/8/2014)
21 days  till first Full squad workout (2/13/2014)
 34 days till 1st ST game  (2/26/2014)
59 days till Opening Day in Australia  (3/22/2014)
66 days till Opening Night at Petco Park. (3/30/2014)
72 days till Opening Day at Dodger Stadium  (4/4/2014)